Sirènes Sylvestres is a night-time interactive installation opening progressive light passages through the forest.
Attracted by a light on the edge of the woods, the wanderer comes closer. As soon as he steps into the pale circle of light, the light turns off. Instantaneously, another one turns on a bit further, revealing a path through the undergrowth. The wanderer stepping into this path only perceives the few meters ahead, following a light which always slips away.
The journey is full of surprises, junctions, loops or breakaways. Sometimes lights blaze in the foliage, others hide beneath a fern. Some are bright white, others glow softly along the way. Wanderers go from curiosity to wonderment, from suspicion to confidence.

- Sirènes Sylvestres v.2 in Berlin. Pictures by Mateus Alves, music by Amiina.
Trusting self-curiosity and stepping aside to follow the Sirènes Sylvestres might end in feeling lost. But one might then find something new, something one could not see before. The installation reveals the surrounding in a sensitive way, guides the wanderer gently where he would not dare to go, returning him to his fears and fantasies.
The flow of visitors depends on the size and the number of path(s). Sirènes Sylvestres is an intimist piece, to be discovered alone or in small group. It can house from 0.5 to 3 visitors per minute. The flow is controlled by software to optimize the quality and the security of the experience.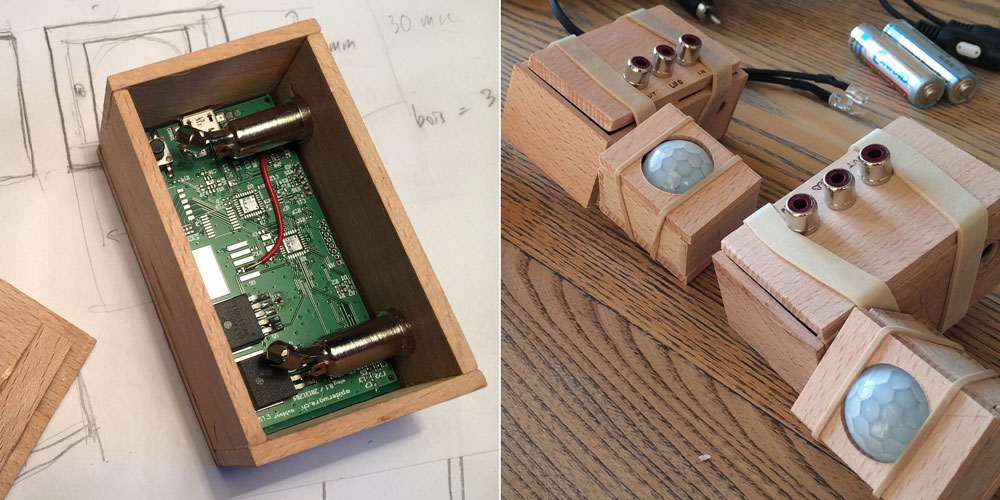 Sensors and light modules are wireless and waterproof, include batteries that can hold a one week exhibition, and may be connected to solar panels for longer shows. It was designed in partnership with the software and hardware ingeneer Markus Hutzler.
The project is supported by the Domain of Chambord. The first version was co-produced by Média-Cité.
Read more informations on the dedicated website sisy.org