The purpose of this tool was to ask people about their income, their perceptions of where they would fit in the income distribution, and then show them where they actually belong.
Update October 2015: we designed a specific version of this tool for the Danish governmental organization Statistiks Denmark.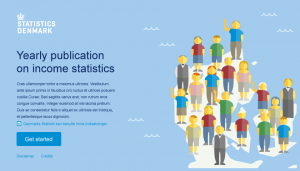 My friend Anthony Veyssière and I were commissioned by the OECD to design and develop this web tool:

To achieve this result, the first step was to define the structure. From the basic form provided by the OECD, we built screen by screen a non-graphic and non-functional wireframe. This simple screens helped us to take fundamental decision regarding the user experience. It was used as a base by the OECD to write the editorial content, by Anthony to develop the tool, and by me to design the user interface.

To define an artistic direction for the tool, I designed two moodboards. The OECD provided links that inspired them the tool. I chose elements from those links, as well from other on-and-offline data visualizations, websites and illustrations, to assemble them into two visuals. Because this project would have a very diverse audience, the visuals were clear and simple to convey a universal look. Both were representing schematic "flat" illustrations and graphics, close to a pictograms aesthetic. The chosen moodboard was the left one:

Based on the wireframe and the chosen moodboard, I designed the mockup of the first screen, which was meant to introduce the tool and to summarize its main steps. I also used it to introduce the visual identity of the tool.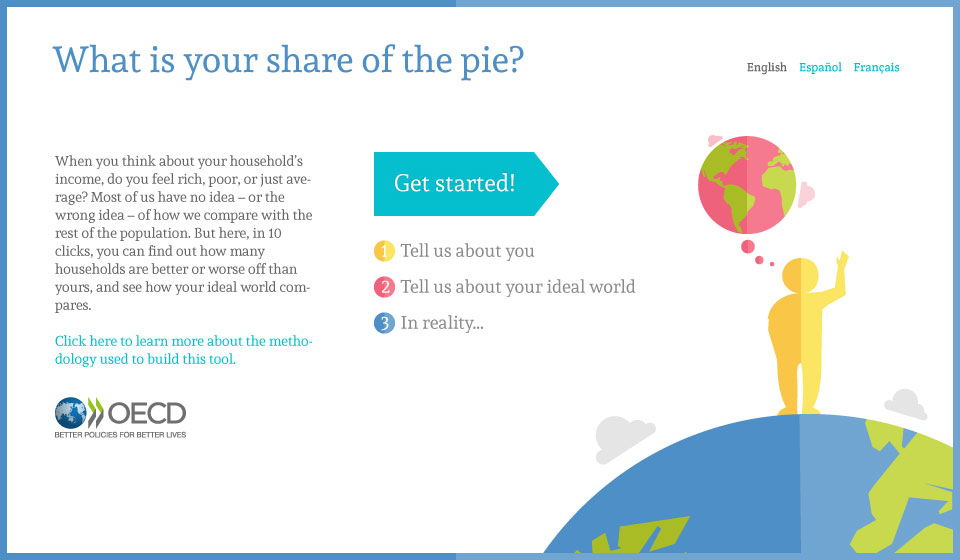 The nine first screens were sort of a fancy survey form. They all had a similar structure: a title bar, a short question, an interactive element to answer the question, a next button and an animated illustration reacting accordingly to the user's answer. For each screen we designed a different illustration.




The last twelve screens of the tool let the user see the difference between his answers and reality. The screens are using the same content as the survey screens, but this time linearly animated to bring face to face user's perceptions with actual the reality of wealth disparities.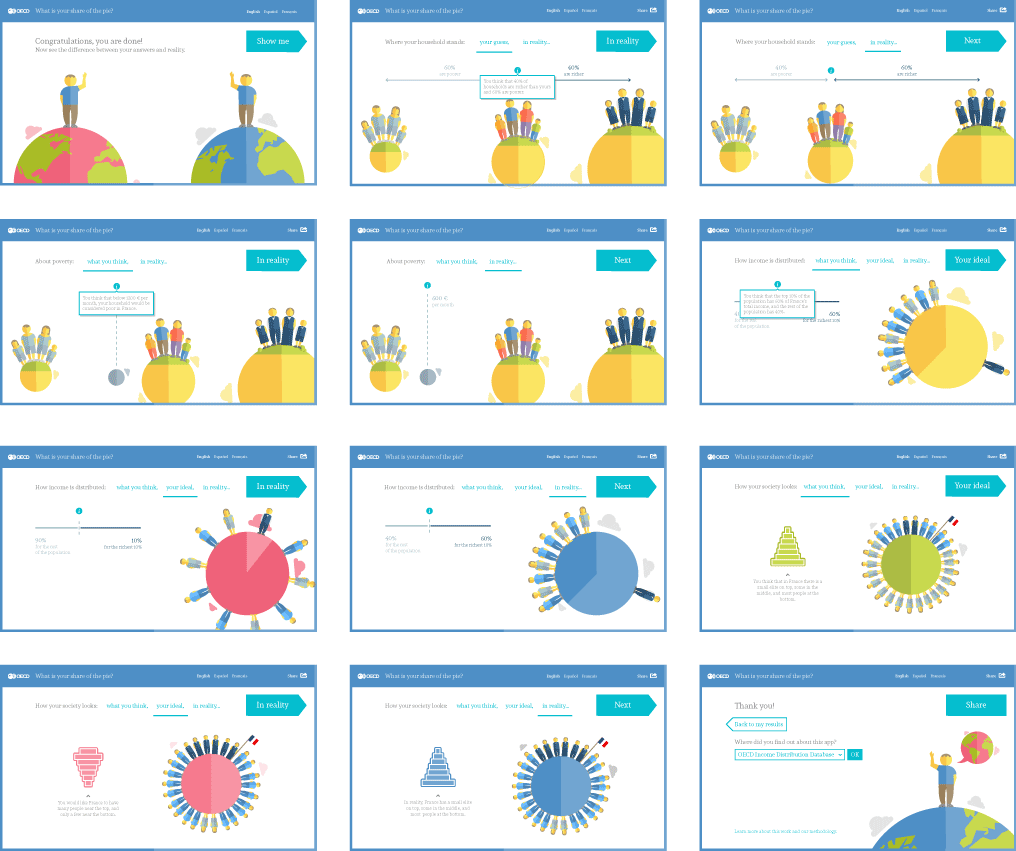 The tool was published in four different languages on various major newspaper websites, such as Le Figaro in France, CNN Mexico, El Pais in Spain, and was shared on Facebook thousands of times allover the world.